Vintejdž logotipi na hrani za ljubimce

Nakon saradnje na knjigama Ad Boy: Vintage Advertising with Character i Meet Mr. Product: The Art of the Advertising Character, istoričar pop kulture Voren Doc (Warren Dotz) i grafički dizajner Masud Husain ponovo nam predstavljaju svoj zajednički projekat. Ovog puta u pitanju je komplet od dve knjige sa srodnim temama. Naslovljene Dog Food for Thought i Cat Food for Thought, obe knjige su sadržajem oslonjene na Docovu kolekciju vintejdž advertajzinga koja obuhvata period od ranih pedesetih godina prošlog veka pa sve do kraja sedamdesetih.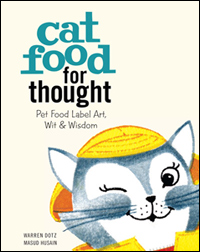 Danas je na tržištu opstalo svega nekoliko tadašnjih brendova. Doc ističe da je primetno kako su se kompanije trudile da raznobojnim šarenim etiketama i boldovanim logotipima privuku vlasnike, uz obećanja o hranljivim obrocima i mesnatim zalogajima namenjenim njihovim najboljim krznatim prijateljima. Pažljiviji pogled otkriva jak uticaj stripova i tipa ilustracije bliskog crtanim filmovima. Prisutni su i elementi viđani na tadašnjim pakovanjima cerealija za decu, uz upotrebu u to doba savremene tipografije i tehnika štampe.